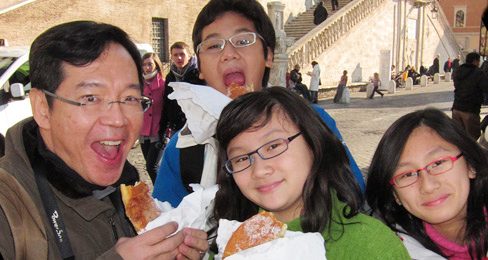 Customised Travel, Tailored to Your Needs
We are a travel consultancy with a unique approach in that we want to emphasise depth of experience over cramming too much into your time. We advocate a leisurely pace in a limited area of travel, and we encourage you to stay put in one place as far as possible. This way, you maximise your enjoyment, and spend a minimum amount of your precious time transiting from one place to another or packing and unpacking every day.
Which is also why, instead of offering every destination under the sun, we opt to focus our energies on a well-defined region of travel. Just one country for now, in fact - Italy.
The discerning traveller will understand that every location in Italy has enough to keep him or her busy for days, that every destination is but a collection of many smaller destinations worthy of exploration. But even more than that, when in Italy, must one really keep oneself busy? This is the land of il dolce far niente, the utterly delectable concept of simply enjoying yourself savouring the day, perhaps sitting in a café and watching the world go by, perhaps having a picnic in the mountains contemplating the exquisite nature around you. Why come to Italy to be busy when you already are at home?
This is where Ergo: Travel comes in...
Travel planning, customised arrangements, and more...
We provide independent travellers with all the support necessary to ensure that your trip will as smooth as possible. We make you a list of recommended hotels for your selection based on your budget and preferences. We help you with arrangements so that you don't need to spend your time getting things done while being there. We give you advice on the what's and how's of going around Italy, the little details like buying a bus ticket, finding a restaurant, or directions to your hotel, so that you can feel safe knowing that things are being taken care of.
We also offer escorted group tours, all planned with a good balance of organised group activities and carefully paced to leave you with plenty of time to do as you please, to explore the town on your own, visit that special museum, go shopping, to spend quality time alone with your family, or just getting into the Italian spirit of il dolce far niente. Still, you will never feel lost when you're on your own because we provide you with well-written handouts to enjoy the town by yourselves. With Ergo: Travel, you will always feel assured that things are taken care of.
...and just in case you are curious - yes, we speak Italian!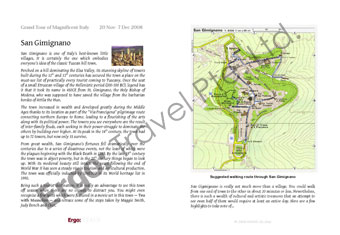 Handout with locality map, description and suggested sights
The underlying philosophy of Ergo: Travel is that of promoting local cultures in all its aspects and emphasising authenticity and learning as the focus of the travel experience. In this respect we are part of the growing movement towards a more enlightened way to travel.
While we make no claims about reducing carbon footprint or recycling natural resources, in our own small way we seek to adhere to the principles of Responsible Tourism by collaborating as far as possible with small local hotels, suppliers and service providers rather than international chains and large corporations. We actively promote local cuisines using seasonal ingredients grown within the region and patronise family-run restaurants instead of mass-tourism establishments. We minimise fuel consumption during group tours by keeping our area of travel small and by encouraging the use of public transport within cities.
In doing so we aim to make a positive contribution to the natural and cultural heritage of the places we visit while bringing fulfilment to our customers.
Photographs: Chong Khin Min & Huang Eu Chai


Tel: +65 3157-1335
info@ergo-travel.com
---
Recommended acommodations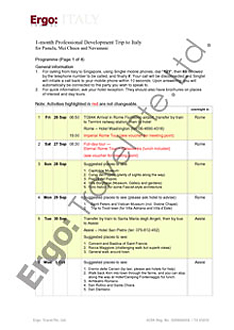 Detailed trip itinerary
Instructions for getting around
---
Ergo: Travel is a member of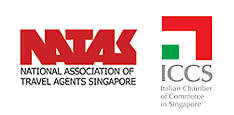 ---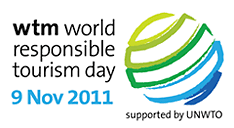 ---