What people are saying
Here are some of the comments we have received from our past clients:


Tel: +65 3157-1335
info@ergo-travel.com
---
Coming up in October…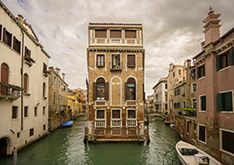 ---
A wonderful trip, in autumn... glowing colours around misty hill towns.
Ms. Stella Kon
Thank you from all of us for a most enjoyable and well-organized trip. I enjoyed the first part to the Lakes, the Salone del Gusto, Turin etc. I like Turin and hope to visit again. Same for Milan. The second part of the trip was even more enjoyable as I had my friends with me and we visited some lovely places. I don't know if Polly told you but we had glorious weather for most of the trip except for two days in Tuscany when we had a real deluge!
Ms. Nithia Devan
The whole trip was excellent. We had a very good experience and were very well looked after. Simone met us and was delightful company, being very informative... . So thank you for organising everything so well. We really enjoyed the whole trip and it made it a birthday to remember.
Mrs. Kathryn Baron
Our merry bunch of 17, 6 adults and 11 kids (ages 3 to 18) spent an amazing two weeks in Italy with Ergo: Travel, just prior to Christmas; we got to experience so much thanks to the commitment and passion of our awesome tour leader! Thanks a gazillion!!!
Dr. Janelene Leong
(self-professed Twi-Mum)
Frances and I had a wonderful time on the trip and we still talk about it. We intend to travel again with Ergo to Italy
Mr. G. Pereira
We enjoyed ourselves immensely in Italy… . The visits to Venice and the Dolomite mountains were the highlights of our entire trip: the view was simply breathtaking!! Spectacular!! ...Thanks for the wonderful arrangements which I believe would not be possible without your insightful input. Your recommendations were spot-on. We will certainly be back for another visit to Italy, this time with our family. Will definitely contact you again when the time comes. Ciao!
Mr. Leo Chee
(corporate group leader)
Great trip, very fulfilling. Thanks for taking us around!
Mr. Daniel Wong
Ergo Travel was highly recommended to us by a friend when my family and I decided to go to Italy in December 2010. The services were prompt, detailed and professional and most of their recommendations, tried and tested, were excellent in more ways than one. Imagine how many of us could stay in an old monastery converted hotel tucked away from the main street but yet accessible by foot from the train station within 5 minutes? We just did and the experience was memorable! The inland tours were great... even my eight-year old daughter could understand and enjoy the tours and though dead beat with jetlag, she craved for more in every city that we visited.
...by far one of our best holidays and we owe all this to Eu Chai, the Italy Expert, so, thanks Eu Chai and a big thumbs up to you!
Josephine & family
The hotels we stayed in were excellent - very good choices. Look forward to meeting up in December. Cheers.
Mr. Fred Quek
The trip was wonderful.
Mr. H.C. Fong
We would definitely like to visit the Dolomites again...
Ms. Hazel Leong
---
We plonked ourselves in Italy right smack in the middle of a heat wave in Jul/Aug but thanks to you, we managed to keep our cool! Fantastic accommodations, the walking tours were superb and our driver for the first half of the holiday was patient, friendly and informative. Your 'good-to-go' kit provided us with everything we needed from train tickets to food recommendations. Glad Ergo: Travel suggested staying a few nights in Assisi, and I don't think many people would have had the chance to visit places like Civita di Bagnoregio (which was amazing by the way). Eu Chai's personal touch made it feel like our trip was arranged by old friend rather than a business-like agency. Thanks!
Ms. Veronica Scully
The Italian guides were excellent, transport arrangements were smooth and went like clockwork, food was very good. so yes, we had an excellent time! Thank you for all the planning. Notes, especially, were extremely useful.
Ms. Anita Fam
The trip went exceedingly well although it would have been fine even if shortened by 2-3 days. The guides were good. We should mention Licio who was very obliging. The meals they organised were also good, especially in Sienna and Burano on our free days, we found your suggestions very useful. I have told quite a few people about this trip and your services and I would be happy to recommend them to you… . Thank you so much for the arrangements!
Mr & Mrs EC Teo
Excellent... We had a really wonderful time and, without doubt, this was due to the rigorous staff work that went on "behind the scenes". For sure, the success of our vacation in Italy was the result of detailed thinking, planning and conscientious care and oversight by Ergo: Travel. So, a very heartfelt "Thank You" to you and all at Ergo: Travel. My wife and I look forward to visiting Italy again very soon and we will certainly depend on Ergo: Travel for another memorable experience..
Mr. Wesley d'Aranjo
All in, Italy in December was indeed immensely enjoyable!....the kids and ourselves were clearly unanimous on this. Our initial reservations about the wintry weather and closed attractions over Christmas were unfounded. The detours off the beaten track from the usual touristy sites were extremely interesting and the regional Italian cuisine we sampled as we transversed southwards was unique. Finally the shared perspective, intimate local knowledge and Italian fluency from yourself combined with the proficiency of local guides at each location proved an invaluable match, certainly a key value-added advantage of Ergo: Travel you should continue to leverage on. Do keep up the good work!
Mr. Chong Khin Min
Just returned from Amalfi coast two days ago. Wonderful trip food great, especially at Positano… . In all we had a wonderful vacation. Thanks ever so much for your help. God bless.
Mrs. Shirley Foo
Sheila and I had long ago planned to spend our honeymoon in Italy. We went to the NATAS travel fair and shopped at dozens of travel organizers but we ended up empty-handed as most tours felt like the tourist version of a microwave frozen dinner — pre-packaged, generic and for mass consumption. On our way to the exit, we found our Virgil for the trip. Here was a professional who knows his craft so well and is genuinely invested in making sure that you will have a truly enjoyable and memorable trip... . Very highly recommended for anyone planning a trip to Italy.
Mr. B. Grant Cheng
Thanks for the arrangement & detailed information that was provided & easy to follow. …Do let us know of any interesting tours, specifically the "food tour" that you plan to organize. We would certainly like to consider that.
Mr. M.T. Szetu
Thanks for all the arrangement - my husband and I enjoyed our holiday in the Amalfi Coast and Naples :) I'm busy preparing for my next trip to London for a week followed by Barcelona. Maybe we can catch up for another cuppa after my return?
Mdm. Wang Cheng Foon
We went on the gourmand tour in the Piedmont and found another wonderful Italy. Fabulous little restaurants with great food, some in out-of-the-way places with stupendous views… beautiful locations and scenery… friendly and knowledgable local guides who wanted to answer questions. Ergo: Travel arranges tours to get you immersed in the history, beauty and fabulous food and wine that Italy offers! Great way to experience Italy and definitely worth repeating.
Dr. Michael Kelly
We had a great time in Northern Italy. Thanks for all the arrangements. Your organisation of our trip had been very well co-ordinated. Our many stops had flowed quite seamlessly. Attended many church services while in Venice. The hotel was well chosen for its proximity to San Marco Church. Of course we were at the 3hr Easter Vigil on Saturday night. It certainly was an experience to remember. Another experience we had was wading through the flood waters 15 cm deep back to the hotel after that Mass. This of course was to make our experience in Venice complete. Thanks once again and God bless. Warmest Regards,
Dr. & Mrs. Stephen Lim
We had a lovely time in Italy. Till today, the children continue to speak fondly of our tour mates and longingly of the places we had visited. Thanks for making this trip possible.
Ms. Joyce Teo
Thank you Eu Chai for helping us put together our free and easy Italy trip. We had a wonderful time in Italy. We throroughly enjoyed the scenic medieval villages of Tuscany. Without your help, we wouldn't have discovered San Giovanni d'Asso and our wonderful driver cum guide who drove us through the medieval hamlets in Tuscany, took us to the wonderful places for true Tuscan meals. We look forward to our next trip to discover and enjoy Southern Italy.
Mrs. Maria Choo
Thanks for the memorable trip. I am already scouting for new customers for you... telling them about our great time in Italy.
Mr. T.H. Tan
TH and I are blessed to have stumbled upon you. We have never done any packaged tour before, and I'm glad that we were inducted through yours.
Mrs. T.H. Tan
Thanks for your arrangement, we had a lovely time in Venice... some of us were also thinking of having you plan a tour to Southern Italy for us, to places like Naples/Capri, etc.
Mrs. Shirley Ley
Thank you for the very well-organized trip. This is the first time I was on a group tour and I was very happy that all of us got on so well. Your very good knowledge of Italy and your most competent Italian contacts have been great assets. I was much impressed by the places we were at and humbled by the magnificent churches.
Mr. P. Liew
We enjoyed the tour tremendously; It covered many attractions I wanted to see for some years that were not covered in the itineraries of other tour operators. The tour was made more insightful by Eu Chai's obvious passion for Italian culture (including food!). He and his Italian guides took us to small restaurants offering flavorsome local fare - places which would not be able to cater to larger tour groups.
…an exceptional tour leader.
Mr. C. Wee
Eu Chai and his team were wonderful, one of the most enjoyable holidays I have ever been on. The hotels and guides were all first class! Excellent service. …and the (birthday) cake was one of the best I've ever had. Thanks for that!
Dr. Lycia Teo
We had a lovely time! :) Cheers
Ms. Sucheta Firodia
Photographs: Various contributors